PatioMaster are one of the UK's leading manufacturers of in-line sliding patio doors – producing bespoke, precision made, doors in a range of colours and configurations, that are easy and fast to install.
The outer frame used in our uPVC patio doors has an 86mm slim-stepped profile, suitable for new builds and replacing door systems in existing properties. This slim design aids ease of installation, aesthetic streamlining and reduces the amount of plaster cutback needed when fitting the door. Two, three and four pane configurations are available.
The PatioMaster UPVC patio door designs are custom built, suitable for any installation. All our doors are fabricated using Profile 22 products of the highest quality and are compatible with all other Profile 22 window and door systems. Manufactured from high quality Profile 22 parts, all our doors are made of strong steel reinforced UPVC with 28mm thick double glazing and internal sliding panels for extra security and thermal efficiency.
Safe and secure

The UPVC used in our doors is strengthened and reinforced by roll-framed hot-dipped galvanised mild steel, and are extruded to conform to BS EN 12608. They are also fire resistant to BS 476, part 7 (class one).
Our inline sliding doors are secured by a multi-point lock with 6 hook opposing action, and feature an inbuilt anti-lift system in accordance with BS7412. The tracking system uses steel tandem rollers cycle tested to 103,000 cycles, and a tracking section manufactured from stainless steel.
All our inline sliding doors are double glazed to a thickness of 28mm, which, combined with the steel reinforced PVCU structure and a three chamber sash, provides excellent levels of thermal efficiency and security.
INTERLOCK BOLTS – These lock the sliding panel to the fixed one and ensure that the two cannot be forced apart.
SECURITY HEAD RAIL – A full-width rail runs across the top of the opening panel to prevent it being lifted from the track.
SECURITY KEEP RAIL – Full height keep rail that supports the sliding door at each corner.
PAS24 HANDLE – Designed to withstand sustained manual attack, highly secure with an enhanced back-plate.
ANTI-BUMP CYLINDER – Designed to prevent the lock cylinder being bumped.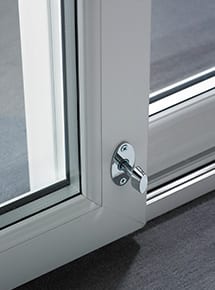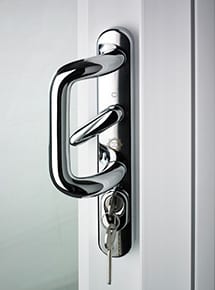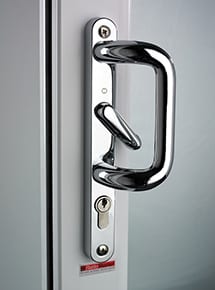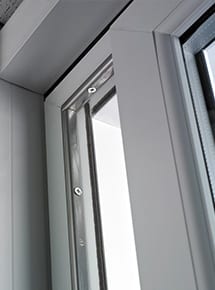 Personalise your doors
In addition to these technical specifications all our doors are made-to-measure and available in a wide range of 17 colours and finishes: Antique Oak, Mahogany and Rosewood options in addition to White, White wood grain, three shades of Grey, Beck Brown, Chartwell Green, Ice Cream, Blue, red and Green, and a premium offering of subtle pastel shades including Willow Green, Barley Water and Vanilla, plus three attractive wood finishes Siena PN, Siena Pr and Irish Oak.